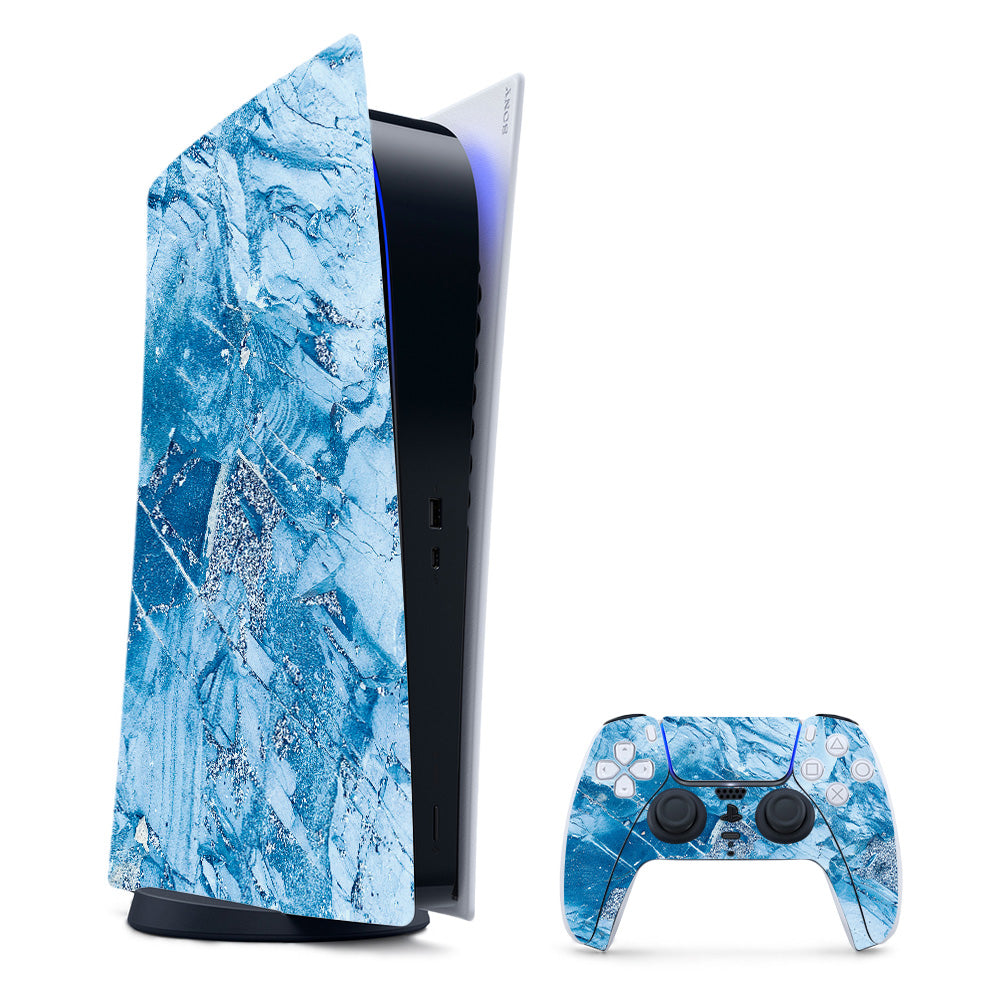 The 10 Best Skins & Wraps For Gamers Right Now
With so many exceptional consoles available today, gamers are firmly in the golden era of gaming. There are endless video game platform options to consider, each one offering a gaming experience to remember. Their graphics are truly outstanding, as is the design of the consoles themselves. There is a way to make the consoles look even more incredible, however, and that's with high-quality vinyl skins and wraps from MightySkins! But which ones should you choose? This guide can help you decide.
Best Console Skins for Gamers
No matter which console you have, there are tons of skin and wrap options to consider, such as:
Playstation 4, PS4 Slim & PS4 Pro Console Skins
A PS4 skin really shows off its miles of flat surfaces. The base Playstation 4 looks great standing up or lying horizontally while covered in abstract designs, pop culture icons, and all the wonders of nature. You can even highlight some of your favorite games (Kerbal Space Program, anyone?) by going with robots, galaxies, and other superb images from the Outer Space collection.
Although the PS4 Slim console is a bit more svelte than its past self, it still has a lot of room for your favorite console skins. Americana, geometric shapes, and all your favorite colors await the chance to dress up your console in amazing ways. The hardest part is choosing just one.
When it comes to the best console skins for the PS4 Pro, you need an elite design that hints at its prowess in the gaming realm. How about equally spectacular machinery depicted in the Robot collection? Or a ferocious dragon from the Fantasy collection? The sky's the limit in how you want to show off your console.
Playstation 5 (PS5)
The Sony Playstation 5 has a futuristic profile that just begs to serve as a canvas for all the best console gaming skins. If you want to show off your love for sports, then choose your favorite legends and slap them on the front. Music more your jam? Go with some of the best artists in history by selecting a skin in the Music Stars collection.
To highlight the beauty of its curved front and sharp angles, you can go with the inspired Tribal collection. Available in matte and carbon fiber finishes, these tribal designs boast vivid colors and intricate patterns that promise to catch your eye each time you approach for another awesome gaming session. You can even dream up a custom decal sticker console skin using your own images, freehand drawings, and text.
Xbox One
The Microsoft Xbox One is a true force to be reckoned with, offering excellent performance in a boxy yet beautiful package. To take its design to great heights, choose Xbox One skins and wraps that feature your favorite hues, patterns, and images.
For those who adore nature, there's the Animals, Camo, and Great Outdoors collections. You can celebrate your love for Zoo Tycoon with skins featuring cunning foxes, sassy cheetahs, and hipster lynxes. If you're crazy about cartoons, celebrities, or anything in between, there's definitely a skin for you across the many collections available for this console. You can even go with sci-fi scenes that'll get everyone talking.
Xbox One S & X
If you have one of the most coveted Xbox One models, the S or X, you'll want a skin or wrap to jazz it up. With the skin of your choice, you can elevate the aesthetics of its classic design and make it all your own.
Want to cover it in your favorite breakfast meat? You can do that. Prefer to slap on a wrap featuring all the most popular Amazon river fish? That's possible, too. Maybe superheroes are more your speed...create a Pokemon or Spider-Man inspired design!
You have tons of fantastic collections to consider, like:
Flowers

Mock textures

Abstract

Classic artwork

Pop culture
You can even have it display inspirational sayings, like "Difficult roads often lead to beautiful destinations," to keep you striving to beat all the hardest levels.
Xbox Series S
The Xbox Series S might be brand new, but that doesn't mean you cannot dress it up how you like. In fact, its rectangular build works perfectly as a display for all the most popular Xbox console game theme skin decals.
You can go with a Modern Surreal design as a nod to the mend-bending insanity that is Cyberpunk 2077. Or take the chill route with a design from the VSCO Girl collection and celebrate your adoration of peace, love, and sea turtles.
Xbox Series X
When only 4K gaming will do, it's the Xbox Series X you want ­– and its huge build is perfect for all those fancy skins you've been wanting to display.
You can make your favorite music stars, sports legends, and cartoon characters larger than life on all four of its sides. Or go with a fun repeating pattern, like Awesome Alpacas, Tropical Hibiscus, and Rainbow Lions.
You can also go with wood grain, marble, and even solid colors if you want to keep it classy, yet incredibly simple or even retro. Some of the most popular Xbox console game skins hide in the Street Art collection, which puts a fun spin on graffiti found around the world.
Nintendo Switch & Switch Lite
Both the Nintendo Switch and Switch Lite are small yet mighty consoles that allow for stellar gaming sessions. They also look great just sitting around, especially when you highlight all their curves with attractive skins.
Skins featuring classic characters, famous villains (everyone loves the Joker), and historical icons all look awesome on this console. You can also go in a different direction with classic art, cartoons, and famous scenes in pop culture. There's no limit to what you can dream up either if you want to make custom Nintendo Switch Lite wraps all your own.
Alienware Aurora R11
Although it's not exactly a console, the Alienware Aurora R11 looks just as good sitting alongside the other gaming rigs in your arsenal. It definitely needs a look all its own, however, to help it stand out from the crowd.
Thankfully, you have tons of gorgeous skin options to consider, like flags galore in the National Pride collection and trippy clouds in the Smoked Out collection. If you want to think about all your trips into the wilderness while playing Red Dead Redemption, get a skin from the Great Outdoors collection instead.
Oculus Quest, Go & Rift VR Headsets
VR is taking over the gaming world in a big way, refusing to get left out in the cold. It's doing so well, in fact, that it's likely to take over many genres, especially realistic platformers. If you want all your gear to look as good as the scenes they display, then get colorful wraps for all your VR gear.
You can get wraps that perfectly fit many rigs, including:
Skins from the Patterns, Geometric Shapes, and Colorful collections are an obvious choice and all look as spectacular as the next. If you want something a little different, think about the mixtapes, skulls, and mystic flames in the Grunge collection.
Controller Skins
As you equip all your favorite gaming consoles with skins and wraps, don't forget the controllers as well. Consider a skin set to match your devices!
You can get perfectly fitting skins for:
You have the choice to match your controllers to the wraps on their gaming consoles or go in an entirely different direction.
You can also go with a fun theme all your own. If you love the great outdoors and your nation, for example, then perhaps flags on your controllers and bald eagles on your console might work best. If you love space and sci-fi (think Star Wars), then you might like a galaxy console and alien controllers.
Let your imagination run wild and you're sure to find the best game console skins combinations. Then, repeat that process for all of your gaming consoles, laptops, and other electronics to show off your unique personality to the world.
Why Wrap with MightySkins?
Although anyone can come with up fun designs, not all wraps are made equal. When you go with MightySkins, you know they'll be easy to apply and fit perfectly without any trimming. They are also durable, protective, and a breeze to remove when you want to go with a different design.
Here's what makes them great:
Only made with the finest 3M vinyl in carbon fiber and matte finishes

Precision cut to perfectly fit particular gaming consoles, controllers, and other gear

Completely manufactured, packaged, and shipped in the USA
When you receive your vinyl decal stickers, just peel off the backing and press them in place. That's all it takes to get your gaming consoles and other gear fitted with custom wraps designed to make you smile. Pick out your
gaming console wraps
and complete your order today.